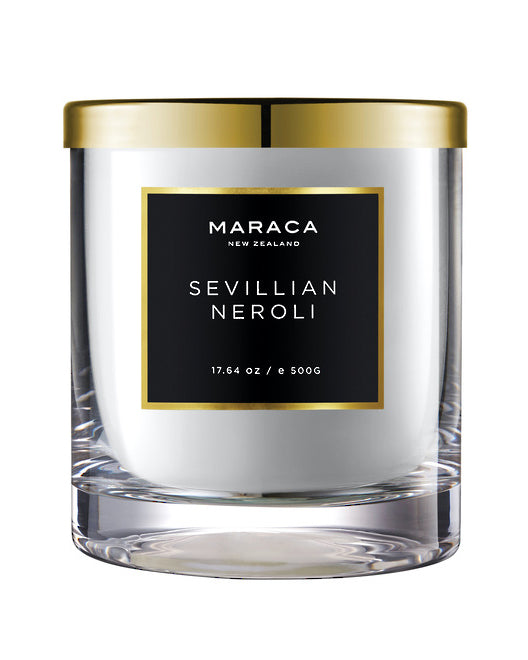 Maraca Luxury Candle - Sevillian Neroli
Created in honour of the historic Jardines del Generalife in Alhambra, Spain, this eponymously named scent is evocative of the famous gardens' ambience during the warm summer months. The Maraca Luxury Candle - Sevillian Neroli has a citrus bouquet which begins with base notes of vetyver, cedarwood and sandalwood to reflect the gardens' exotic history. Middle notes of cinnamon, geranium and cloves lift the fragrance for a lighter mood than its predecessor, whilst top notes directly reference summer with plum, bitter orange, neroli and yellow citrus lemon making for a clean, fresh scent.

Enjoy up to 80 hours of burn time. 

Fragrance formulated in France. Candle handcrafted in New Zealand.

500g / 17.64 oz
 
Fragrance Notes:
Top: Plum - Bitter Orange - Apple - Neroli - Lemon
Middle: Cinnamon - Geranium - Cloves
Base: Vetyver - Cedarwood - Sandalwood
 
Product Care:
Burn on heat-resistant surface. Burn candles for 2 or 3 hours at a time. After blowing out the flame, if necessary centre the wick in the liquid wax. Trimmed to ¼ inch before relighting the candle to avoid unnecessary smoke. Burn away from a draft, other heat sources or anything flammable. Never leave a burning candle unattended. Keep out of reach of children and pets.